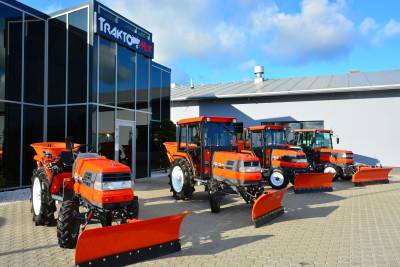 We are pleased to welcome you to our website. This is a perfect place if you are passionate about technology and want to have a mechanical helper, own a company that needs a smart and reliable clean-up device or represent a municipality willing to be ready for the winter season. Anyway, as experience has shown us, there are many more reasons why people purchase our compact tractors.
Traktomix is a young, dynamic company. The company has been on the market since 2010. First of all, the tractor is customised. Professional advice in selecting the right model, checking it, carrying out an inspection and preparing the complete machines are the tasks that are normally performed during the sales process. Our tractors are imported directly from Japan from specialised companies that sell them. The agreements signed with these companies allow us to import items in good original condition—these are the tractors you can see here. Before the tractor is handed over to the customer, it can be painted, tyres can be replaced with new ones etc., as an additional service. However, we are of the opinion that the vast majority of such measures is not necessary. We issue a written warranty and guarantee post-warranty service. We have at our disposal a site where our tractors can be tested.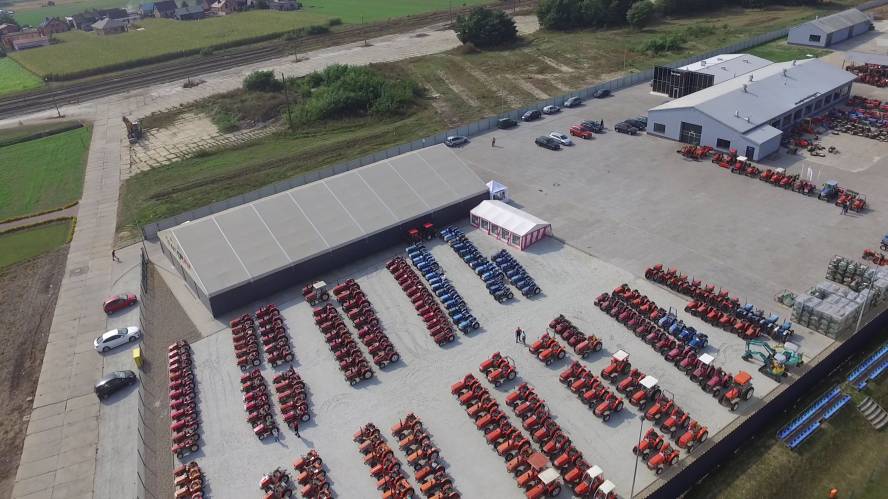 Since the very beginning, great emphasis has been put on the quality of the equipment sold, a wide range of equipment and a sense of safety of the customer. That is why our service is at a high level and the range of machines offered is the largest one on the Polish market. This professional approach to consumer service has led the company to its present standing. The company is now a tycoon not only in Poland, but also in Europe. Experienced mechanical engineers have a modern machine fleet at their disposal. Our sales stuff are always able to offer a wide range of tractors as well as dedicated equipment. Each sale transaction is approached individually to guarantee 100% satisfaction to the customer. We naturally have our own transport and are able to deliver the tractor or the whole unit to any location in Poland and Europe.
The company also remotely sells machines and accessories. The purchase can be accomplished efficiently via our e-Shop. If you have any questions, please contact us by e-mail or by phone.
The following features of the compact tractors make them so successful:
Versatility – It is possible to mount a wide range of equipment to create even a typical municipal tractor (flail mower, sweeper, snow plough, heated cabin), a tractor for manure digging in farming or e.g. in a stable (front loader with a bucket replaced with manure fork, pallet fork and a snow ploughshare), for work in a larger garden at home (rotary cultivator, snow plough, front loader, flail mower). There are many more applications. Our offer even includes compact excavators mounted on the three-point hitch of the compact tractor.
Reliability – This is the opinion on the products purchased in Japan, but not much more can be said about a manufacturing department where several major companies have been fighting for the customer on the demanding Japanese market for decades. First of all, it is essential to replace filters and fluids and pay attention to the cleanliness of the radiator (there should be no plant residues) to ensure that the tractor will be operational and trouble-free for many years. When buying from Traktomix, you can be certain to receive assistance, even during the post-warranty period.
Economics – Used equipment always costs less and, in this case, it does not lose its value later on. The price of the tractor includes a full inspection and a one-year mechanical warranty.

We invite Polish and foreign companies willing to be an agent in the sale of our products to establish permanent cooperation.
We are prepared to present an interesting offer.
---
Our existing contracting parties come from many European countries.